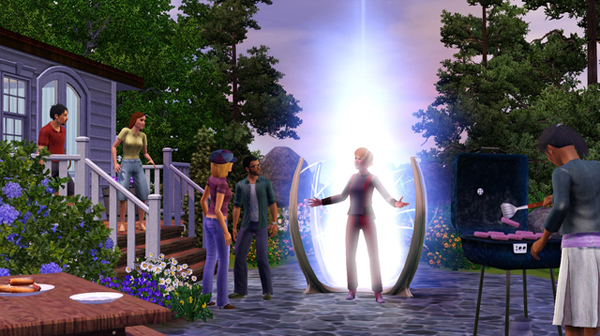 The Sims 3 - Into the Future (Addon) (PC/Mac)
Platform

origin

Version

Global
The Sims 3 - Into the Future (Addon) (PC/Mac) Game Key Description
The Sims 3 Into the Future Expansion Pack introduces a new Futuristic World and Skills, Careers, Objects, Sim clothing and hairstyles to fit the experience. This summary of Expansion features will let you know what you'll get when you buy Into the Future and link you to in-depth strategy guides for the new gameplay elements. Into the Future is the last Expansion Pack, heralding The Sims 4 which is currently planned for release in Fall 2014. With some exploration, you will find little easter eggs and teasers for TS4. I'll feature plenty of screenshots on this page to show off this beautiful Expansion.
Oasis Landing is not a world you choose when creating a new game, but one that Sims can travel to (much like a travel destination in World Adventures or Attending Sim University. When first loading the game, a Time Traveler named Emit Relevart will appear and give you an Opportunity to help him. Once this easy task is completed, you are given an Almanac of Time and the ability to use the Time Portal to visit the Future. While a Sim (or Group of Sims) is in Oasis Landing, time will freeze back home while the Sims time traveling will continue to age and may gain skills, join careers, or simply have fun and enjoy Futuristic amenities.
The future may not be what you expected it to be, but that doesn't mean you can't experience it to the fullest! Experience what the future holds, get a job that you've always wondered was possible, and get even more out of your Sims game!
Plus, there's a rather deep story that you need to figure out, one that involves a Wasteland at the edge of the future. Why is it there? What happened to make it that way? How will this affect your time in the game, as well as how you play it? These questions and more can be answered in the Sims 3 Into the Future expansion pack!
The Sims 3 - Into the Future (Addon) (PC/Mac) Game Key Features
• Take Your Sims to the Future - For the first time in The Sims franchise, you can play with life in the future! Enter the Time Portal and take your Sims to a new world that exists hundreds of years in the future where they can explore a whole new way life.

• Experiment with Future Technology - Witness how new technologies for entertainment, transportation, or the home will reinvent the way your Sims eat, sleep, travel, socialize, work, and have fun. Your Sims can learn how to use this all-new technology in the future and take their Advanced Technology Skill back to the present to get the most out of these objects there!

• Change Life in the Future - Your Sims' present-day actions will lay the groundwork for their future legacy. Your Sims can even meet their future descendants and change their destinies by actions taken in the present! With opportunities to alter the fate of the future, will your Sims strive to create an ultra-utopian society or a world of chaos?

• Tell New Stories with the All-New Create-A-Bot - Build and customize a variety of Plumbots and add them to your Sims' household! Create unique "trait chips" that you can then use to program your Plumbots. With the ability to hold up to seven trait chips, these Plumbots are bound to act and behave in surprising ways. What would happen if you combined the Robonanny and Sinister Circuits chips?

• Buy and Build the Homes of the Future - Futurize your Sims' homes with holographic TVs, easels, plants and computers, and zip between floors through tube elevators. Install automatic-sliding doors, peaceful rooftop gardens, and glass floors and walls to give their homes that perfect futuristic touch. The home of the future is whatever you want it to be!

• Play with a New World Hundreds of Years into the Future – Strap on a jetpack and visit a futuristic shopping plaza to browse and purchase the latest gadgets and apparel from a variety of interactive pedestals. Enjoy a delicious synthesized meal served by Plumbots in the outdoor café. Take on futuristic careers by becoming a Plumbot dealer or a renowned astronomer at Stellar Observatory. Or, go way out to explore the vast wasteland – who knows, your Sims might find rare relics and perhaps clues as to what happened to the ocean!